4 years ago · 1 min. reading time · visibility ~10 ·
The Moments of the Beauty and Expressivity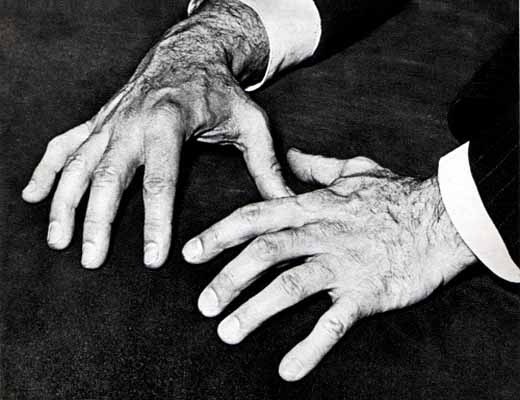 1961. Claudio Arrau's hands. Photo by Arnold Newman.

About

Claudio Arrau  (1903 – 1991) one of the greatest pianists of all time, plays Schumann Carnaval (1961). A great person deserves no less:
https://www.youtube.com/watch?v=fSG1CTVD4fo
We need to honor those moments of the beauty and expressivity. They are rare. They are becoming pretty rare as we get older. 
The syndrome of the longest and final goodbye known as the fear of becoming irrelevant.

It's so human, even for the great minds and artists, and it should be tolerated (particularly in the case of older people).
I like very much imperfect people, even you.
About
Herbert von Karajan (1908 – 1989) an Austrian conductor. A great person deserves no less:

"If I have so many things to think, to do, and to meditate upon, and my body refuses to follow me, then nature must give me another one. Must give me another. Not maybe." - Heribert Ritter von Karajan (1908 – 1989) to a biographer some time (in 1986) before the great conductor's death (in 1989).


Heribert Ritter von Karajan
About

Artur Schnabel (1882 - 1951) an Austrian classical pianist. A great person deserves no less:

"As I pointed out, his most important recordings are his Beethoven. He recorded most of the Piano Concerti twice. The first time was from 1932 to 1935, recording all 5 concerti with Sir Malcolm Sargent conducting the London Symphony Orchestra. He recorded Nos. 4 and 5 with Frederick Stock/Chicago Sym in 1942, and Nos.2 to 5 with Issay Dobrowen/Philharmonia Orchestra in 1946 to 1947. I have heard all of these but analyzed only the Dobrowen recordings and the No.1 with Sargent.

It is obvious that his technique was much more intact in the 1932 No.1 than it would become more than a decade later. His technique apparently declined a great deal in his late years. According to Horowitz's theory, Schnabel played only Beethoven in his late years, and that caused him to lose all of his technique. (From Harold Schonberg's Horowitz: His Life and Music). The 1946/7 performances are just average.

Although there are occasional moments of beautiful expressive passages, many other pianists can do that just as well."


from "The top 10 pianists of the 20th century" by Piano Wizard on pianowizard.www2.50megs.com
http://pianowizard.www2.50megs.com/pianists.html
About

You, my friend (xxxx - )

A great person deserves no less.


Author in Source Title
Tell people: You are great, while they are alive.

Goodbye my friend.

See you in the next life...
.......................................................................................................................

"Addressing the Fear of Becoming Irrelevant" by Marty Nemko Ph.D. on psychologytoday.com
https://www.psychologytoday.com/blog/how-do-life/201507/addressing-the-fear-becoming-irrelevant

Alphaville - Forever Young:
https://www.youtube.com/watch?v=t1TcDHrkQYg
Writer(s): Frank Mertens, Marian Gold, Bernhard Lloyd

You have no groups that fit your search